Easy Changes You Can Make This Earth Day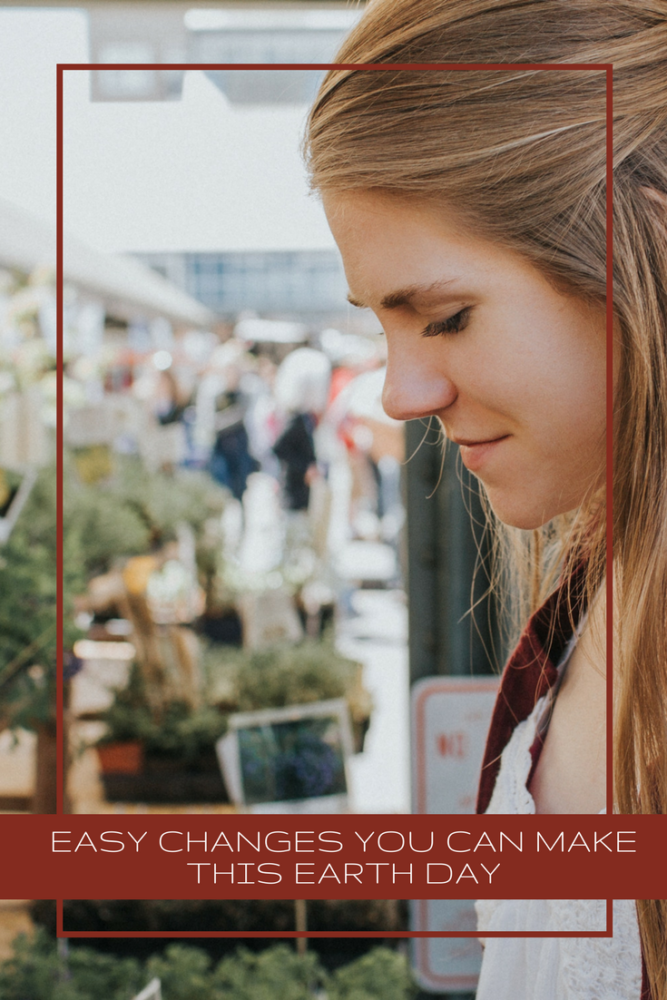 Earth Day is the ideal time to rethink the environmental impact of your everyday routine. Even the most green among us can stand to re-evaluate their lifestyle choices for the benefit of the world in which we live. What better time than now to make these easy changes in your routine!
Rethink your fashion choices.
Although the fashion industry is making strides to become more eco-friendly, clothing manufacturers still have noticeably large carbon footprints. To avoid contributing to the problem, be thoughtful when purchasing new garments. Choose eco-friendly fabrics from designers who have pledged to follow green practices. Also, look for classic items that have been made to hold up over time, rather than trendy pieces meant to be worn for one season and thrown away.
Ban single-use packaging.
Instead of stocking up on bottles of water, invest in a few reusable glass bottles that you can carry with you. The same principle applies to coffee cups as well! Bring a reusable coffee cup with you to the coffee shop to keep some waste out of the landfills.
Skip the plastic straw.
Instead of single-use plastic straws that end up in the trash, commit to using alternatives when you order a drink from a restaurant. Bamboo, glass, and metal straws are all much more environmentally-friendly alternatives to plastic straws.
Practice zero waste grocery shopping.
Reduce the amount of trash to add to the world's landfills by changing your grocery shopping habits. Instead of buying food in small, disposable packaging, bring your own bags and reusable containers to the store with you. Buying items in bulk both reduces the amount of packaging needed to hold your grocery items, and reduces the number of trips you need to make to the store to restock!
Take care of your car.
We all know that reducing the amount of driving you do is good for the environment. Ride-sharing, public transport, biking, and walking are all preferable alternatives to driving. Unfortunately, there are many times when driving is a necessary evil. You can limit the harmful emissions coming from your car by keeping it properly maintained. Regular tune-ups will help keep your vehicle running efficiently.
Green your cleaners.
Rather than using harsh, harmful chemicals to clean your home, opt for natural cleaners that will not pollute groundwater. Many eco-friendly cleaning lines are sold in stores, or you can choose to make your own!
Do you have any other changes that you have made to benefit our environment? These are just a few of our favorite but there are so many changes that you can pledge to make this Earth Day for a cleaner planet in the years to come.
About the Author
Ernie Carswell is one of the most accomplished and respected real estate agents in the industry today. With more than 25 years of experience in the business, Carswell's extensive roster of satisfied clientele includes the likes of Fortune 500 CEOs, professional entertainers, top studio executives, leading attorneys, government officials, ambassadors, and foreign dignitaries.Carswell is one of the most admired names in luxury real estate and frequently receives accolades for his outstanding work in the press. He has been included in The Hollywood Reporter's "Hollywood's Top 25 Real Estate Agents" listing, in Variety's feature on "Showbiz Real Estate Elite," Billboard's coverage of the "Top 15 Real Estate Agents Representing Musicians Today," and was ranked in the top 100 Agents in the nation by the Wall Street Journal's Real Trends.