5 Outdoor Events in Los Angeles Summer 2021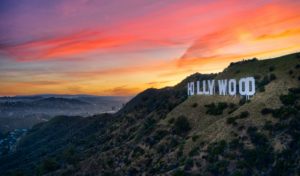 With over 60% of Los Angeles residents at least partially vaccinated, it's safe to finally start rekindling your social life. And what better way than through Los Angeles' myriad outdoor events this summer?
We've gathered some of LA's most promising events to attend outside in June and July 2021.
Dance at Dusk
America's National Ballet Company is hosting five live outdoor ballet performances in June in a series called Dance at Dusk.
Taking place in the Jerry Moss Plaza beside the Walt Disney Concert Hall, the performances feature three different pas de deux by six talented dancers: Romeo and Juliet, Don Quixote, and A Time There Was.
Dance at Dusk is the perfect way to experience live ballet again without entering into indoor crowds.
When: June 2-6 at 7:30 pm
Where: the Jerry Moss Plaza
Buy tickets: https://www.musiccenter.org/tickets/events-by-the-music-center/american-ballet-theatre/
Street Food Cinema
Street Food Cinema is back for its traditional outdoor movie experiences starting in June, with guests enjoying classic and new films in various parks around Los Angeles. (During the pandemic, the outdoor movie experience transitioned into a drive-in experience.)
Like the name suggests, food trucks provide plenty of local, delicious food to enjoy while watching films. In June, they're screening Black Panther, Dirty Dancing, The Sandlot, and 500 Days of Summer. Locations include LA Historic Park in Downtown, Will Rogers State Park in Pacific Palisades, and Brand Library Park in Glendale.
When: Various dates in June
Where: Various parks in Los Angeles
Buy tickets: https://streetfoodcinema.com/
LA Dodgers
Dodger Stadium announced that it will be open at full capacity starting on June 15, meaning that baseball games will regain their pre-covid atmosphere.
Upcoming home games in June include Dodgers vs. Cardinals, Rangers, Phillies, Cubs, and Giants.
When: Various dates in June
Where: Dodger Stadium
Buy tickets: https://www.mlb.com/dodgers/schedule/2021-06
Garden Dialogues
Hosted by The Cultural Landscape Foundation, the Garden Dialogues is an event taking place at The Goldman House in Encino. The Goldman House is a recently renovated mid-century modern house designed by Richard Neutra in 1951.
The discussion will feature on how the renovations were approached to maintain the historic value of the home, as well as on the new gardens at the home. Speakers include Pamela Burton, the landscape architect, Barbara Lamprecht, the architectural historian, and Ted Broden, the general contractor.
When: June 12 at 2 pm
Where: The Goldman House (Encino)
Buy tickets: https://tclf.org/garden-dialogues-2021-los-angeles-ca
July 4th Fireworks Spectacular
This annual Hollywood Bowl event returns in person for 2021. Attendees experience a lively party with live music performances from Kool & the Gang, Thomas Wilkins, and the Hollywood Bowl Orchestra.
True to its name, the night ends with a spectacular fireworks show.
When: July 3-4 at 7:30 pm
Where: The Hollywood Bowl
Buy Tickets: https://www.hollywoodbowl.com/events/performances/1229/2021-07-04/july-4th-fireworks -spectacular-with-kool-the-gang
We are thrilled to see our beloved city begin to open itself up again! Hopefully, there's something on this list for every Angeleno.
About the Author
Ernie Carswell is one of the most accomplished and respected real estate agents in the industry today. With more than 25 years of experience in the business, Carswell's extensive roster of satisfied clientele includes the likes of Fortune 500 CEOs, professional entertainers, top studio executives, leading attorneys, government officials, ambassadors, and foreign dignitaries.Carswell is one of the most admired names in luxury real estate and frequently receives accolades for his outstanding work in the press. He has been included in The Hollywood Reporter's "Hollywood's Top 25 Real Estate Agents" listing, in Variety's feature on "Showbiz Real Estate Elite," Billboard's coverage of the "Top 15 Real Estate Agents Representing Musicians Today," and was ranked in the top 100 Agents in the nation by the Wall Street Journal's Real Trends.