Best Fine Dining Takeout in Los Angeles for Valentine's Day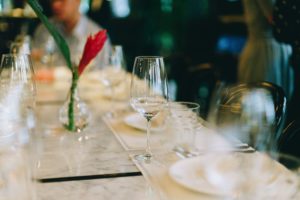 The white tablecloths and candlelight over a romantic dinner for two are how most of us would like to celebrate Valentine's Day with our significant other. But with the pandemic still rolling through Los Angeles, it's understandable that you might want to keep your romantic night within the safety of your own home.
Fortunately, many of Los Angeles' top fine-dining restaurants have adapted for the times and are offering mouth-watering, curated meals to-go – complete with hand-picked wines and gorgeous packaging.
MIRAME (Beverly Hills)
MIRAME opened in summer 2020 at the height of the pandemic, so they're no strangers to serving their high-end Mexican cuisine to-go. The seasonal menu balances vegan options (like the Roasted Beet Tostada) with more classic, top-of-the-line Mexican dishes like the Grilled 35oz Prime Côte de Boeuf. Specialty Mexican craft beers and small-batch mezcals are available to add to your meal.
The candlelit, hip space is located in the center Beverly Hills. While the outdoor dining terrace is currently open for their regular menu, MIRAME is also offering specialty take-out options including a Valentine's Day Oysters and Chocolates package.
Gwen (Hollywood)
Gwen is a restaurant with an attached butcher shop located in Hollywood, known for its high-quality meat dishes, house-made charcuterie boards, and rich desserts. Since the pandemic, the restaurant seems to have transitioned into a marketplace with many of the same recipes prepared to-go and able to be ordered a la carte.
Gwen has a robust to-go menu that includes everything from pies to picnic baskets to wine. However, the chefs have also curated a special Valentine's Day collection, which includes a Valentine's Day 3-Course Meal for Two. Other options include 1 ½ pound Maine Lobster, Blackmore Wagyu Filet Mignon, and Gallus Brun Chicken with Périgord Truffle Butter. Additionally, hand-picked wine is available to add to your meal.
Angelini Osteria (Fairfax)
Angelini Osteria has been a staple in the Italian fine-dining scene in Los Angeles since 2001, known for their authentic Italian cuisine and charming atmosphere. Since COVID-19, the restaurant has doubled down on creating beautiful, delicious take-home dishes.
The rustic take-out menu includes classics like Wood-Burning Pizza Margherita and their House-made Spaghetti Chitarra alla Norcina with black summer truffles, sausage, and Parmigiano Reggiano.
But the chef has also curated a Valentine's Day meal that includes a pasta, a choice of "Segundo" plate, and a chocolate hazelnut "lovers" cake. Wine is available to top it off.
Crossroads (West Hollywood)
For vegan couples, Crossroads is the perfect Valentine's Day spot. The plant-based restaurant is known for its Mediterranean small plates, like the Eggplant Filet and Braised Pumpkin Seed Tofu.
Online ordering of the full menu is available via delivery services like Grubhub and Postmates. For Valentine's Day, you can select the $95 Valentines Menu, which includes four courses (with different options to choose from for each course).
***
Eating in can be very romantic – especially if you can bring restaurant-quality, chef-curated meals in!
This Valentine's Day, support a local restaurant and order in your romantic meal for two.
About the Author
Ernie Carswell is one of the most accomplished and respected real estate agents in the industry today. With more than 25 years of experience in the business, Carswell's extensive roster of satisfied clientele includes the likes of Fortune 500 CEOs, professional entertainers, top studio executives, leading attorneys, government officials, ambassadors, and foreign dignitaries.Carswell is one of the most admired names in luxury real estate and frequently receives accolades for his outstanding work in the press. He has been included in The Hollywood Reporter's "Hollywood's Top 25 Real Estate Agents" listing, in Variety's feature on "Showbiz Real Estate Elite," Billboard's coverage of the "Top 15 Real Estate Agents Representing Musicians Today," and was ranked in the top 100 Agents in the nation by the Wall Street Journal's Real Trends.