Best Local Southern California Wine for the Holidays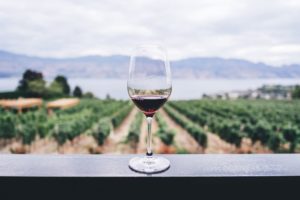 Some tasting rooms and bars may be closed due to COVID-19 concerns, but many of Southern California's best local wineries are still producing, shipping, and delivering fine-quality wines to your door.
This holiday season, go local with your wine choices to support our burgeoning wine country and impress guests with a vine-to-table selection. Here are our recommendations to get started.
Slyd Wines
Slyd Wines- Based out of Los Olivos in Santa Barbara County, Slyd Wines is producing award-winning Syrah's, as well as a Sangiovese, which is rarely produced in the area. There Syrah recently won "Top Syrah's in the United States" in 2019 by Wine and Spirits Magazine.
Gold Line, Angeleno Wine Company
Angeleno Wine Co. is the closest winery to home, based in Downtown LA. The small winery produces their wine with fresh fruit from Alonso Family Vineyards only an hour away.
All of their wines are natural wines, which means they are produced using organic fruit and minimized additives and processing during fermentation.
The Gold Line wine is a favorite "orange wine," from this producer, meaning that it is a white wine made with the grape skins still on. It boasts a warm amber color and apple, pear, and spice flavor perfect for holiday tables.
Sta. Rita Hills Pinot Noir – Santa Barbara Winery
Santa Barbara Winery is the farthest producer on our list, located, of course, in Santa Barbara. This well-regarded winery was founded in 1962 and has won numerous awards.
The Sta. Rita Hills Pino Noir is one such award-winning wine. It took home a Double Gold Award, suggesting that it has wide appeal.
Santa Barbara Winery describes it like this: "It has a rich ruby color with open aromas of raspberry and sweet cherry. Subtle notes of cedar trail just behind the fruit. Cherry pie and sweet tobacco round out the palate. Medium-bodied, and smooth across the tongue, the tannins in this wine will keep you chewing long after the final sip."
Sounds like the perfect Thanksgiving turkey accompaniment, doesn't it?
Single Vineyard Wines – Herzog Wine Cellars
Herzog Wine Cellars is a kosher wine company with roots in 19th-century Slovakia. Now, the company is located in Ventura County and produces a wide variety of kosher wines. Herzog Wine Cellar wines are an excellent choice for those looking for fine wines, kosher wines, or simply one of the largest varieties to choose from.
We recommend choosing a Single Vineyard Wine from Herzog to take advantage of their excellent quality.
Mary Margaret Sherry – Galleano Winery
Galleano Winery has been located on the same rustic Mira Loma land since the 1930s. While their on-site location is beautiful, their wines alone are notable, too.
Their Mary Margaret Sherry cleaned up at the Jerry Mean International Wine Competition in 2015, winning a Double Gold Award, Best of Class, Best Varietal, Best Dessert, and Grand Champion.
This multi-award-winning dessert wine is ideal for impressing guests after the main course.
Surfrider Hang Ten Red – Rosenthal The Malibu Estates
Rosenthal The Malibu Estates is the only winery right on the Pacific Coast Highway, and its tasting room has a spectacular view. The casual feel of the winery translates into their wines, making them ideal choices for less-formal family celebrations.
We've heard great things about the Surfrider Hang Ten Red, a blend of 65% Merlot, 18% Cabernet Sauvignon and 17% Syrah. The producers report "aromas of cherry and licorice;  flavors of candied cherry, plum and herbaceous notes of anise and fennel" and suggest pairing it with a fun-filled outdoor family gathering.
***
Bring the winery to your table
There's something that feels inherently celebratory about opening a bottle of wine—and even more so if that bottle has roots in our own community and agriculture.
Whether you are hosting a formal holiday gathering or simply planning an intimate family dinner, we hope you have discovered a brand new wine to grace your table with this year.
About the Author
Ernie Carswell is one of the most accomplished and respected real estate agents in the industry today. With more than 25 years of experience in the business, Carswell's extensive roster of satisfied clientele includes the likes of Fortune 500 CEOs, professional entertainers, top studio executives, leading attorneys, government officials, ambassadors, and foreign dignitaries.Carswell is one of the most admired names in luxury real estate and frequently receives accolades for his outstanding work in the press. He has been included in The Hollywood Reporter's "Hollywood's Top 25 Real Estate Agents" listing, in Variety's feature on "Showbiz Real Estate Elite," Billboard's coverage of the "Top 15 Real Estate Agents Representing Musicians Today," and was ranked in the top 100 Agents in the nation by the Wall Street Journal's Real Trends.