Dog-Friendly Spots In Beverly Hills, West Hollywood & Sunset Strip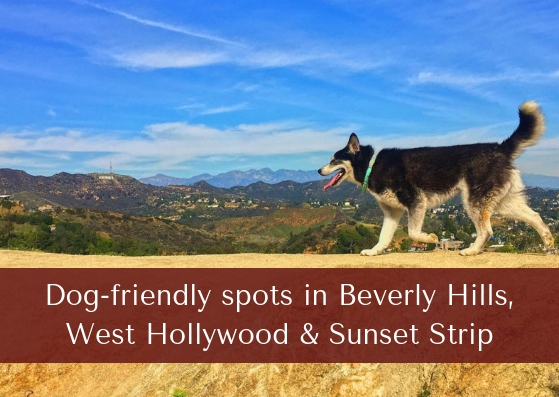 Springtime in Los Angeles conjures images of sunny days spent hiking outdoors, exploring outdoor shopping centers and a sipping a mimosa on the sunny outdoor patio of your favorite restaurant—all, of course, with your dog at your side.
While dining with your canine best friend feels like an important part of LA culture, the state of California actually didn't formally legalize it until 2014, and the law also allows for any restaurant to prohibit dogs from their outdoor spaces if they choose to. This means that it can be more difficult to find a spot in the city to spend an afternoon with your pup than you might think.
So, to make it easier, we've rounded up some of our favorite dog-friendly spots on the Westside.
Dog Friendly Beverly Hills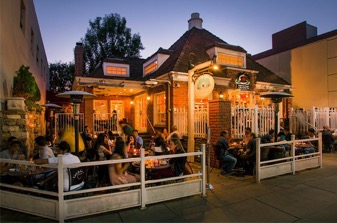 Urth Caffé in Beverly Hills is one of the growing organic coffee and tea chain's most enchanting locations. It's housed in a charming converted residence, complete with original brick, white fences and warm lighting. The outdoor patio is open to dogs, so you can enjoy your Urth salad or fresh fruit smoothie while your dog lounges at your feet.
The Beverly Hills Hotel is one of LA's most iconic luxury hotels, founded over 100 years ago. It's long been a symbol for old world Hollywood glamour, with celebrities like Marilyn Monroe and Elizabeth Taylor making it their go-to place to unwind. But did you know that it's also one of the most dog-friendly hotels in the city? According to Bring Fido, the hotel allows up to two large dogs to stay at its bungalows—most hotels require that dogs be under 50 lbs.
The Farm of Beverly Hills is the perfect place to settle in with your dog for a delicious brunch on a weekend afternoon. Located in the heart of Beverly Hills, it serves up modern American cuisine that diners rave about. The restaurant also boasts a small patio out front underneath cheerful yellow awnings for diners with dogs.
Dog Friendly West Hollywood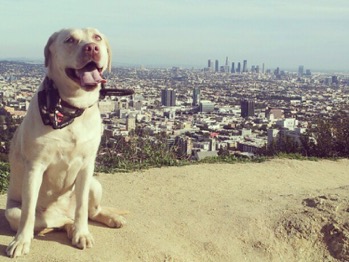 Runyon Canyon State Park is arguably one of the most popular places to take your dog, and for good reason. Despite its urban location, the canyon includes 90 rugged acres where dogs can roam off leash, following you as you hike up to pretty views of the city. And for dogs (and people) that want an easier hike, paved roads make for a less strenuous trail. Water stations and baggie stations are located throughout the park.
If you think that a restaurant's atmosphere is just as important as the food, then you'll love Little Next Door, a French restaurant and wine bar in WeHo. The space includes a huge outdoor patio underneath a an arched, branch-covered roof. Cobalt blue walls and greenery complete the colorful, jungle-like feel.
Does your dog love socializing with other pups? If so, the West Hollywood Dog Park is beautiful facility focused on keeping dogs safe and happy while they play. The park is separated into two sections, one for smaller breeds and another for large dogs. Its floor is an environmentally friendly astro-turf, specially created to be gentle on paws and withstand wear-and-tear. The park is fenced in and has plenty of water stations.
Dog Friendly Sunset Strip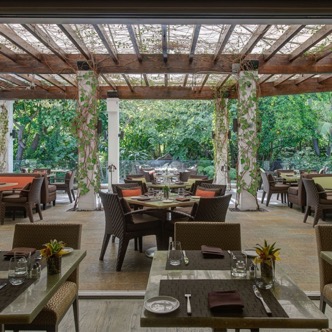 The Sunset Marquis Hotel's onsite restaurant, Cavatina, features a sprawling outdoor patio that's friendly for dogs of all sizes. The restaurant prides itself on its world-class wine collection and James Beard-award-winning chef. A covered roof and twisting vines—and at night, twinkling lights—make for a extraordinarily pleasant dining experience.
The Eveleigh restaurant and bar is housed inside a converted, rustic 1923 home. They serve brunch and dinner, though many patrons go just for their drink menu. At night, the wooden structure, open-air dining and candlelight create a warm, romantic atmosphere. And it's not just that dogs are allowed at the Eveleigh, they've been specially provided for. An astro-turf section is ideal for your pups to stretch out or play on while you wait for a table or sip a drink.
Another famous Hollywood spot, the Chateau Marmont hotel and restaurant off Sunset Strip, is surprisingly dog friendly. The gorgeous outdoor garden terrace and Spanish style villas have been featured in dozens of films, including the recent Oscar-nominated "La La Land." And while the hotel only allows for dogs under 50 lbs., the restaurant is more open to your canine pets of all breeds.
Hopefully, this list will give you plenty of ideas for quality time with your dog around town. If you aren't sure if your favorite bar, restaurant or venue is open to your dog tagging along, you can search for it on Bring Fido, a database that catalogues the policies of all dog-friendly restaurants, parks, hotels, events and more.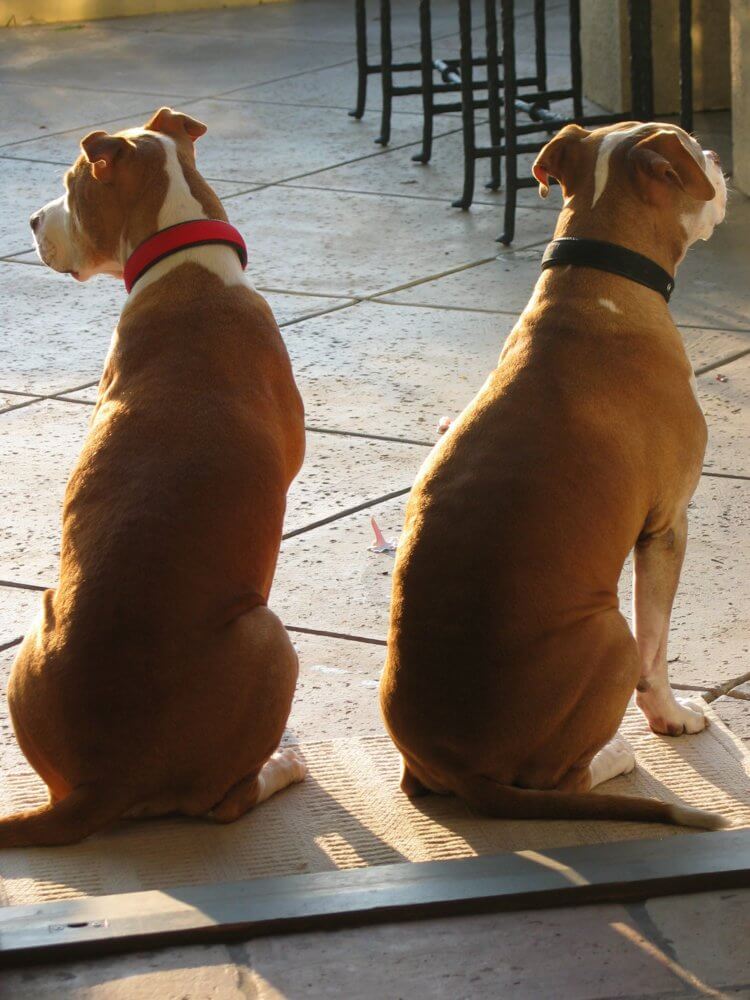 About the Author
Ernie Carswell is one of the most accomplished and respected real estate agents in the industry today. With more than 25 years of experience in the business, Carswell's extensive roster of satisfied clientele includes the likes of Fortune 500 CEOs, professional entertainers, top studio executives, leading attorneys, government officials, ambassadors, and foreign dignitaries.Carswell is one of the most admired names in luxury real estate and frequently receives accolades for his outstanding work in the press. He has been included in The Hollywood Reporter's "Hollywood's Top 25 Real Estate Agents" listing, in Variety's feature on "Showbiz Real Estate Elite," Billboard's coverage of the "Top 15 Real Estate Agents Representing Musicians Today," and was ranked in the top 100 Agents in the nation by the Wall Street Journal's Real Trends.