Should you stage your home before you put it on the market?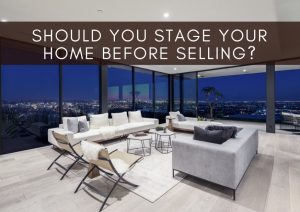 Home staging is a special type of interior decorating that's designed to appeal to the most people possible. Instead of décor that's tuned to your personal taste, home staging décor is neutral, very contemporary, and meant to create a universally inviting atmosphere. The goal is to make it easy for potential buyers to envision your home as theirs.
Buyers may find it hard to conceptualize an empty home—or a home that's filled with the previous owner's years of furniture and sentimental items—as a place they can settle into. And home staging is often offered as the solution.
But you may be wondering if your beautiful home really needs to be staged. Won't it sell on its own?
The answer depends on what you, as the seller, most value. Read on for the reasons why you should stage your home, and the reasons why it might not be the right choice for you.
You should stage your home if…
You want to do everything you can to get the highest bid for your home. A 2018 study of 4,200 homes found that more than two-thirds of staged homes sold for 9-12% more than similar homes that weren't staged. For a list price of about $5 million, that's the difference of $450,000-$600,000.
You need your home to sell as quickly as possible. For homeowners who have already purchased a new home or who need to move on fast, staging your home can help your home sell faster than any other in your neighborhood. The most recent National Association of Realtor's Profile of Home Staging found that over 50% of staged homes sold more quickly than similar non-staged homes.
Your home has so many rooms that the function of each isn't obvious. Beyond the standard bedrooms, kitchen, living room, and bathrooms, other extra rooms could leave buyers wondering what they'd use each room for. And even small added hesitation might cost you that sale. Home staging can define each room's purpose, so that imagining a life in your home is easy for every buyer.
Your home has a few architectural "quirks" or an unusual flow. You may love the unique aspects of your home, but potential buyers might see them as flaws. Home staging can help the home feel inviting and livable, rather than be seen as a little odd.
You're relying on online listings to fill your open house or book viewings. When all buyers know about your home is from the images they see online, it's important that the photos are amazing. It's been found that 38% of buyers are more likely to visit a home they saw online if it's staged in the photos.
Your home has been on the market for a while. If you haven't gotten an acceptable offer in months, it's time to give it everything you've got—including staging your home to sell.
You might want to think twice about staging your home if…
You'd rather not deal with the process. Home staging does take some time and effort for sellers, so if you're too busy to consider it, then it's not a good idea for you. In this case, your time may be worth more than the extra money you could get from the sale. Of course, many real estate agents will handle the process for you, so ask yours if that's something they offer.
You don't want to foot the bill upfront. With home staging, you pay the cost of staging upfront and hopefully get a return on that investment when you sell your home. com states that the average cost to stage a 2,000 square foot home is about $2,400/per month. If you would rather save your money now and potentially sell your home for a lower price, than staging is not for you.
You're still living in your home while it's on the market and don't want to disrupt your life until you absolutely have to. Home staging involves switching out some or all of your furniture for new pieces, possibly painting rooms, and deep cleaning/decluttering. If you don't want to move out right away (or you're not comfortable living amongst the staged furniture), then it's best you don't stage your home.
How do you find a home staging company?
If you decide to stage your home to sell, the best way to find a reputable and talented home stager is to ask your real estate agent.
Often, agents will either offer the service themselves or will have a recommendation for a home stager they trust to do an excellent job. Sometimes, agents will arrange the entire process for you.
Most industry professionals recommend home staging—but the decision should be about what's best for you
Home staging has become almost expected for homes on the market, even in lucrative and competitive markets like New York City and our own Los Angeles. However, you should make the decision for yourself.
Decide what's most important to you: Getting the highest sale price possible? Selling your home quickly? Or saving time, money, and hassle right now (rather than later)?
If you can't decide what to do, it's always best to defer to your agent. They'll know what makes the most sense for your type of home, the market you're in, and your
About the Author
Ernie Carswell is one of the most accomplished and respected real estate agents in the industry today. With more than 25 years of experience in the business, Carswell's extensive roster of satisfied clientele includes the likes of Fortune 500 CEOs, professional entertainers, top studio executives, leading attorneys, government officials, ambassadors, and foreign dignitaries.Carswell is one of the most admired names in luxury real estate and frequently receives accolades for his outstanding work in the press. He has been included in The Hollywood Reporter's "Hollywood's Top 25 Real Estate Agents" listing, in Variety's feature on "Showbiz Real Estate Elite," Billboard's coverage of the "Top 15 Real Estate Agents Representing Musicians Today," and was ranked in the top 100 Agents in the nation by the Wall Street Journal's Real Trends.