Neighborhood Guide: Bel Air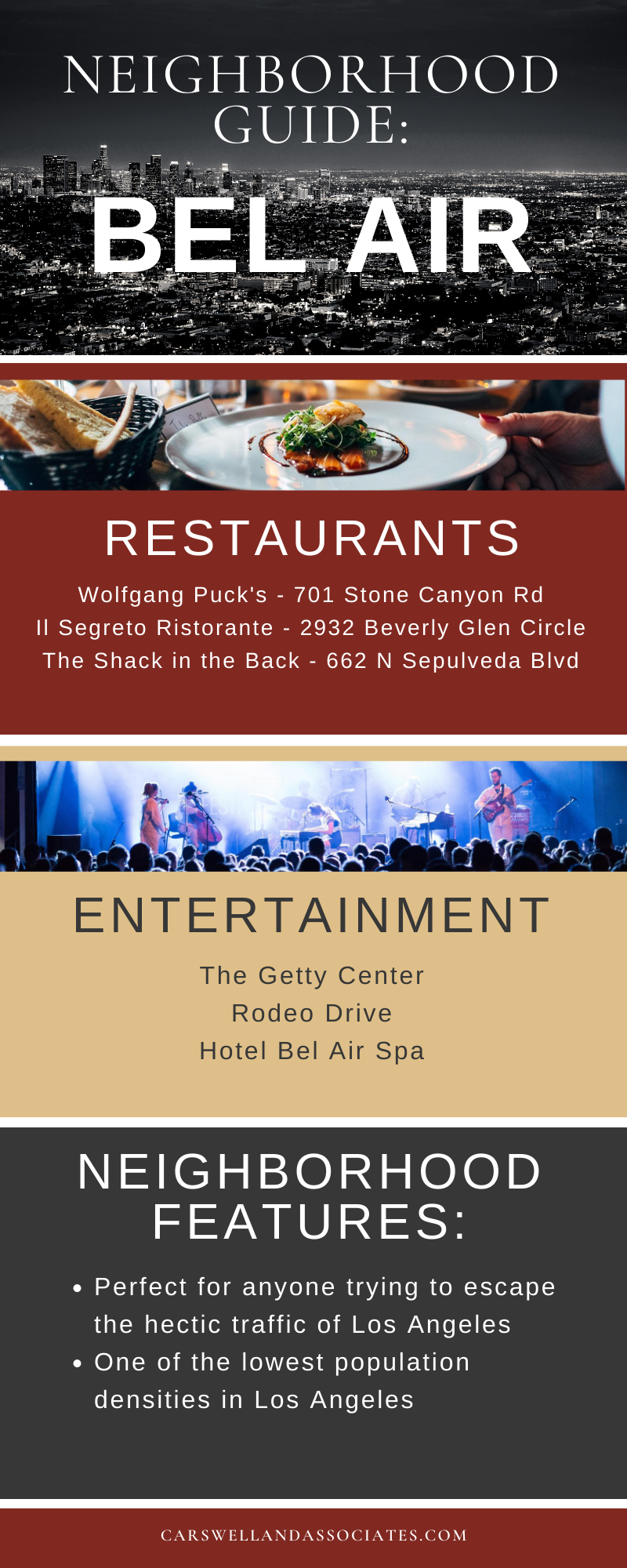 Home to some of the most extravagant properties in California, Bel Air also boasts celebrity residents along with remote, private neighborhoods. Exclusive communities filled with massive estates and Hollywood A-listers, Bel Air is tucked away just to the north of Beverly Hills. The area has slowly become a symbol of the elite as a secluded oasis away from the hustle and bustle of Los Angeles.
NEIGHBORHOOD FEATURES
Many of Bel Air's perks include its privacy fencing, community and lack of traffic. Because of its remoteness, it's only social settings include the Bel Air Hotel and Bel Air Country Club. However, the neighborhood also features gorgeous views of the foothills, windy roads and beautiful residential architecture.
RESTAURANTS
Just a short drive south and you'll end up at world famous chef Wolfgang Puck's Bar & Lounge. Thrillist calls this restaurant a "culinary oasis in Bel Air" offering signature pizzas, sandwiches and other light fares. Right in the heart of Bel Air is Il Segreto Ristorante, home to some of the most decadent pasta and Italian entrees. Looking for something a little quicker? Try The Shack in the Back for on-the-go smoothies, burritos, salads and more!
THINGS TO DO
Looking to make your Bel Air adventure a little more exciting? Head to the nearby Getty Center to see its impressive art collection and gardens or do some shopping along Rodeo Drive. For those who prefer to be pampered, visit the Hotel Bel Air Spa for luxurious treatments and an all-day escape!
Don't forget to head down to Westwood as well for gorgeous movie theaters and Hollywood premieres. We will give you more options in Westwood in a few weeks with a neighborhood guide there as well. Overall the remote Bel Air neighborhood is perfect for anyone trying to escape the hectic traffic of Los Angeles. Located less than 30 minutes from both LAX and Downtown LA, Bel Air is also proud to have one of the lowest population densities in Los Angeles. Its combination of luxury and privacy makes Bel Air a great neighborhood for Hollywood's elite.
Our newest listing combines all of Bel Air's best qualities into one gorgeous property. Enjoy breathtaking views of the lake surrounded by nature and complete privacy. This one was even highlighted in the L.A. Times recently.
Overlooking a green canyon and mountain ridgetops, Fontenelle Way strikes a solid stance facing outward to Stone Canyon. Live in luxury with a home in Bel Air. Contact us today for more information about either of these amazing homes.
About the Author
Ernie Carswell is one of the most accomplished and respected real estate agents in the industry today. With more than 25 years of experience in the business, Carswell's extensive roster of satisfied clientele includes the likes of Fortune 500 CEOs, professional entertainers, top studio executives, leading attorneys, government officials, ambassadors, and foreign dignitaries.Carswell is one of the most admired names in luxury real estate and frequently receives accolades for his outstanding work in the press. He has been included in The Hollywood Reporter's "Hollywood's Top 25 Real Estate Agents" listing, in Variety's feature on "Showbiz Real Estate Elite," Billboard's coverage of the "Top 15 Real Estate Agents Representing Musicians Today," and was ranked in the top 100 Agents in the nation by the Wall Street Journal's Real Trends.