Our Favorite Summer Refreshers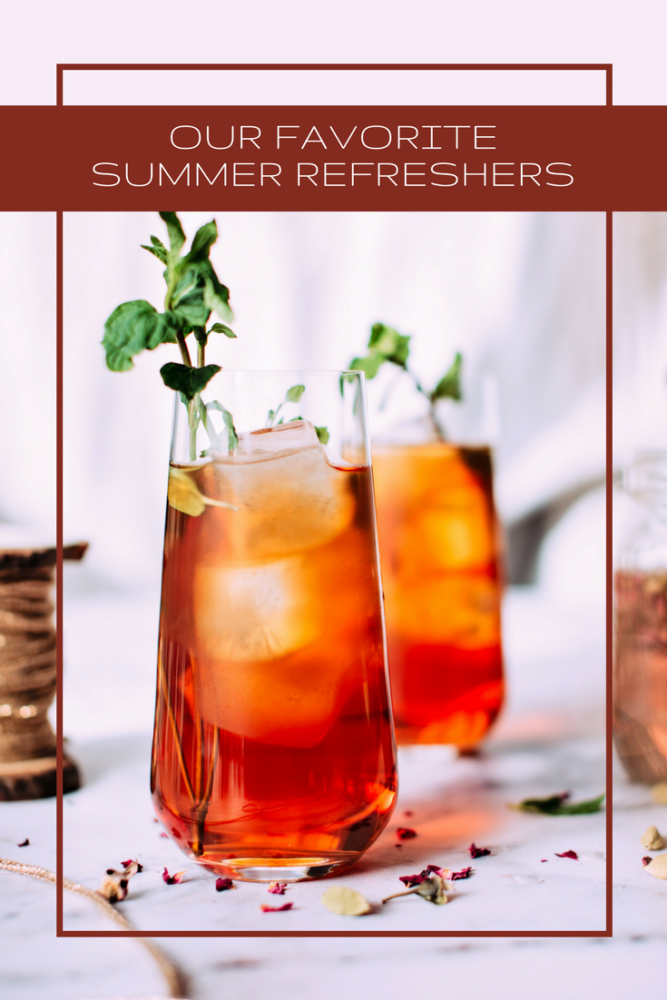 Longer days, warmer nights, more beach days – there are so many things to love about summer. But if there's one thing we love, it's sipping a tasty summer drink with our toes in the sand! No matter your preference, there's so many varieties for everyone to enjoy. We've put together a list of some of our favorite refreshers for you to try this summer, with everything from fruity delights to minty mojitos.
WATERMELON-CHAMPAGNE COCKTAIL
Source: Cooking Channel
4 1/2 cups seedless watermelon cubes
1/4 cup vanilla-infused vodka, such as Absolut Vanilla, chilled
1/8 cup triple sec
1 1/2 ounce fresh lime juice
Champagne, for topping off the drinks
This refreshing cocktail only takes 30 minutes to make. Blend your watermelon cubes on high until smooth. Strain out 2 cups of watermelon juice to a pitcher and refrigerate for 30 minutes. Add your vodka, triple sec, lime juice and stir well. For an added bonus, top off each drink with a small amount of champagne.
MOJITO LIMEADE
Source: Food Network
1/2 cup fresh mint leaves, plus sprigs for garnis
2 limes, cut into wedges, plus more for garnish
2 cups crushed ice, plus more for serving
1 cup simple syrup (add additional lime zest and mint if desired)
1 liter white rum
1/2 cup fresh lime juice
Club soda
While this twist on a classic mojito takes about 3 hours to make, it is definitely worth the wait. Muddle your mint leaves and lime wedges along with 2 cups of crushed ice in a large pitcher. Add your rum, lime juice and some more ice. Top with club soda to your liking and serve over ice. You may also add a lime wedge garnish to your glass and mint sprigs.
LEMON BLUEBERRY SWEET TEA
2 (16-oz.) package frozen blueberries
1 cup fresh lemon juice
1 gallon any sweet tea recipe
Bring frozen blueberries and fresh lemon juice to a boil in a large saucepan over medium heat. Cook, stirring occasionally for 5 minutes. Remove from heat, and pour through a fine wire-mesh strainer into a bowl, using back of a spoon to squeeze out juice. Discard solids. Add to standard sweet tea recipe. Pour into a pitcher; cover and chill 1 hour.
PAUL BOWLES
Source: Town and Country Magazine
4 fresh blackberries
.5 oz simple syrup
1 oz Milagro Reposado Tequila
.75 oz Ancho Reyes
.75 oz fresh lime juice
4 leaves fresh basil
This cocktail gets its name from author Paul Bowles. Muddle your blackberries along with simple syrup. Add in all other ingredients and shake well. Pour over ice and serve with a lime wheel. Quick and easy!
Beat the heat this summer and cool off with a delicious cocktail in your favorite flavors. So, tell us, which of these summer cocktails will you try this season? And for those who prefer wine, we also have our picks for the best wine shops in Los Angeles. Enjoy!
About the Author
Ernie Carswell is one of the most accomplished and respected real estate agents in the industry today. With more than 25 years of experience in the business, Carswell's extensive roster of satisfied clientele includes the likes of Fortune 500 CEOs, professional entertainers, top studio executives, leading attorneys, government officials, ambassadors, and foreign dignitaries.Carswell is one of the most admired names in luxury real estate and frequently receives accolades for his outstanding work in the press. He has been included in The Hollywood Reporter's "Hollywood's Top 25 Real Estate Agents" listing, in Variety's feature on "Showbiz Real Estate Elite," Billboard's coverage of the "Top 15 Real Estate Agents Representing Musicians Today," and was ranked in the top 100 Agents in the nation by the Wall Street Journal's Real Trends.