The 10 Best Mother's Day Brunches In LA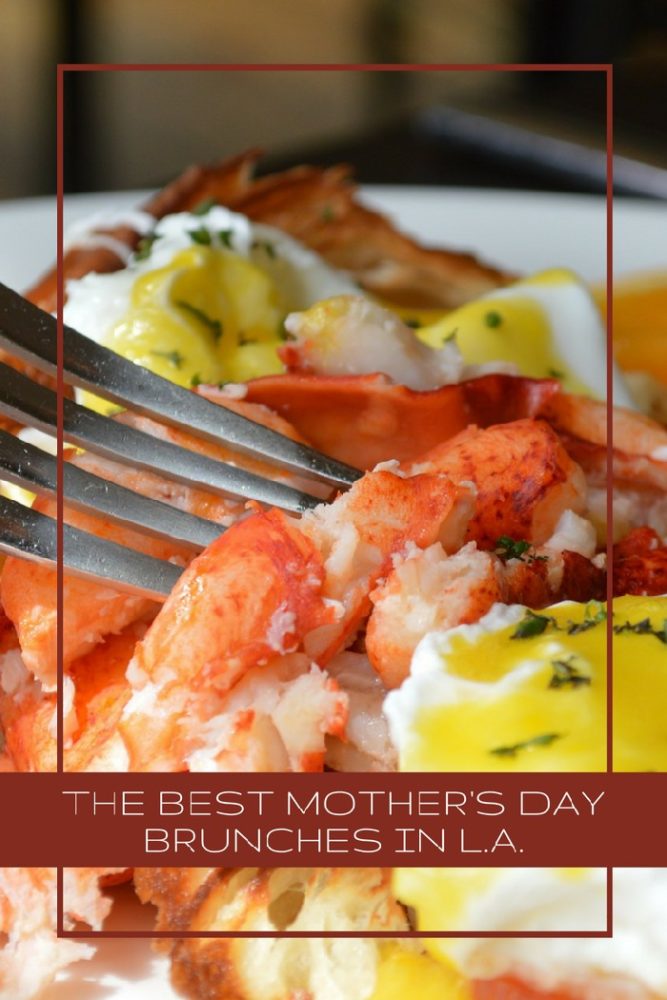 Not many cities brunch as well as Los Angeles, so it makes sense that LA's Mother's Day brunch offerings are plentiful. We have compiled a list of our favorites from the Greater LA area; some offering buffet style meals, others offering multi-course prix fixe menus. You should be able to find the perfect brunch to pamper your mom this Mother's Day.
Arrive at Cafe Pinot between 10:30AM and 3PM to enjoy their deluxe prix fixe menu which will feature two courses and a dessert. Choose from delicious dishes such as French Toast topped with berries and a vanilla chantilly or Croque Madame made with smoked ham Gruyere. $55 per person, $19 for kids 12 and under.
Spend a beautiful Mother's Day with brunch in the rose garden featuring an oatmeal and fruit bar, a carving station, a baked potato bar and more! Guests will be treated to a performance by a harpist, and a caricature artist will be on hand to provide you with a fun memento of the day. $75 for non-member adults, $30 for non-member kids. Members receive $10 off an adult meal and $5 off the kids' meal.
Choose from the restaurant's special Mother's Day menu featuring choices like azuki bean french toast, butter lobster ramen, and organic quinoa.
Your three course meal will be comprised of dishes such as steak tartare or chilled Spring pea soup and Skuna Bay salmon or short rib hash. $41 per person, $19 for children 12 and under.
This delicious brunch will allow you to choose a bit of everything from applewood smoked ham at the carving station to a selection of petit fours for dessert. $45 per person, $20 for kids 12 and under.
Spoil your mom with an amazing brunch in the Viennese Ballroom. Choose from smoked and fresh seafood, sushi; assortment of salads, made-to-order omelets, and a chocolate fountain all while enjoying free-flowing champagne. $108 per person, $54 for children 4-12.
Give your mother a taste of Paris with dishes like grilled skirt steak with Bearnaise sauce or Pastis flambeed shrimp linguine in a lobster cream. $55 per person $19 per child 10 and under.
Enjoy a decadent array of culinary dishes, bubbly mimosas, and live music all while dining poolside at the Mr. C Yacht Club. $115 per person, $49 for children 5-12.
The three-course prix fixe menu features choices like corn angolotti, fois gras pain perdu, and fluffy chino & ranchers egg tartine. $65 per person, $35 for children 12 and under.
The Tangata brunch buffet offers entrees and sides in addition to a pancake station and assorted pastries and breakfast breads. $44.95 per person, $19.95 per children 12 and under.
Which of these delicious brunch options sounds the best to you? Let us know in the comments below!
About the Author
Ernie Carswell is one of the most accomplished and respected real estate agents in the industry today. With more than 25 years of experience in the business, Carswell's extensive roster of satisfied clientele includes the likes of Fortune 500 CEOs, professional entertainers, top studio executives, leading attorneys, government officials, ambassadors, and foreign dignitaries.Carswell is one of the most admired names in luxury real estate and frequently receives accolades for his outstanding work in the press. He has been included in The Hollywood Reporter's "Hollywood's Top 25 Real Estate Agents" listing, in Variety's feature on "Showbiz Real Estate Elite," Billboard's coverage of the "Top 15 Real Estate Agents Representing Musicians Today," and was ranked in the top 100 Agents in the nation by the Wall Street Journal's Real Trends.