Neighborhood Guide: Westwood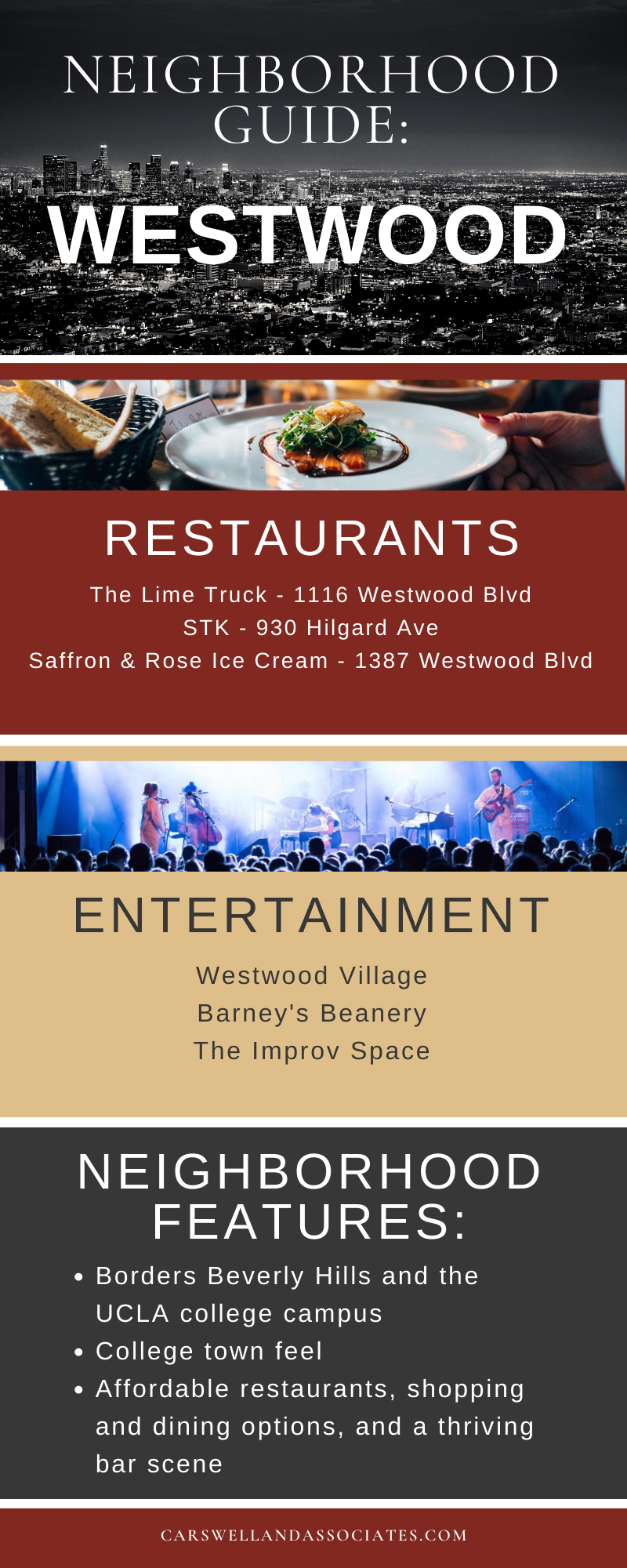 Sitting on the border of Beverly Hills and college campus UCLA, Westwood has all of the characteristics of an upscale college town. Along with its 40,000 students, the neighborhood is also full of office buildings, apartments and residential streets. With affordable restaurants, shopping and dining options, and a thriving bar scene, Westwood is perfect for families and students alike.
THINGS TO DO
Westwood Village is one of the most popular shopping destinations in the city. Shops range from trendy stores such as Urban Outfitters and American Apparel to more classic options like Ann Taylor Loft.
Head down to Barney's Beanery for some eclectic 50's decor of stickers, magazines and posters along with their padded-back bar seats. An LA favorite since 1920, their pub-style menu and beer selections keep both the locals and students coming back for more.
If you're looking for some laughs, don't forget to visit The Improv Space. This non-profit theater hosts improv, stand-up, open mics, and free music weekly. They also offer comedy classes for those wanting to learn everything from the basics to more advanced techniques.
RESTAURANTS
Craving some explosive flavors? Stop by The Lime Truck (a food truck turned restaurant) for delicious sandwiches, tacos and fried food. We recommend trying their weekend menu full of bottomless mimosas and breakfast versions of their classic tacos, burritos and nachos.
You might also head to the W Hotel to visit the steakhouse STK for a satisfying menu of market salads, seafoods, steaks and more. There's even a DJ mixing beats throughout your meal on some nights!
If you're looking for something on the sweeter side, be sure to visit Saffron & Rose Ice Cream. They use traditional Persian methods to create the most creamy, rich concoctions in fragrant flavors ranging from orange blossom to lavender.
With so much to see and do, it's no wonder Westwood is home to families, students and more. If you're thinking of making the move to Westwood, contact us for more information. We currently have several different properties in the area as well as neighboring Bel Air to show you!
About the Author
Ernie Carswell is one of the most accomplished and respected real estate agents in the industry today. With more than 25 years of experience in the business, Carswell's extensive roster of satisfied clientele includes the likes of Fortune 500 CEOs, professional entertainers, top studio executives, leading attorneys, government officials, ambassadors, and foreign dignitaries.Carswell is one of the most admired names in luxury real estate and frequently receives accolades for his outstanding work in the press. He has been included in The Hollywood Reporter's "Hollywood's Top 25 Real Estate Agents" listing, in Variety's feature on "Showbiz Real Estate Elite," Billboard's coverage of the "Top 15 Real Estate Agents Representing Musicians Today," and was ranked in the top 100 Agents in the nation by the Wall Street Journal's Real Trends.