The History of Outpost Estates in Hollywood Hills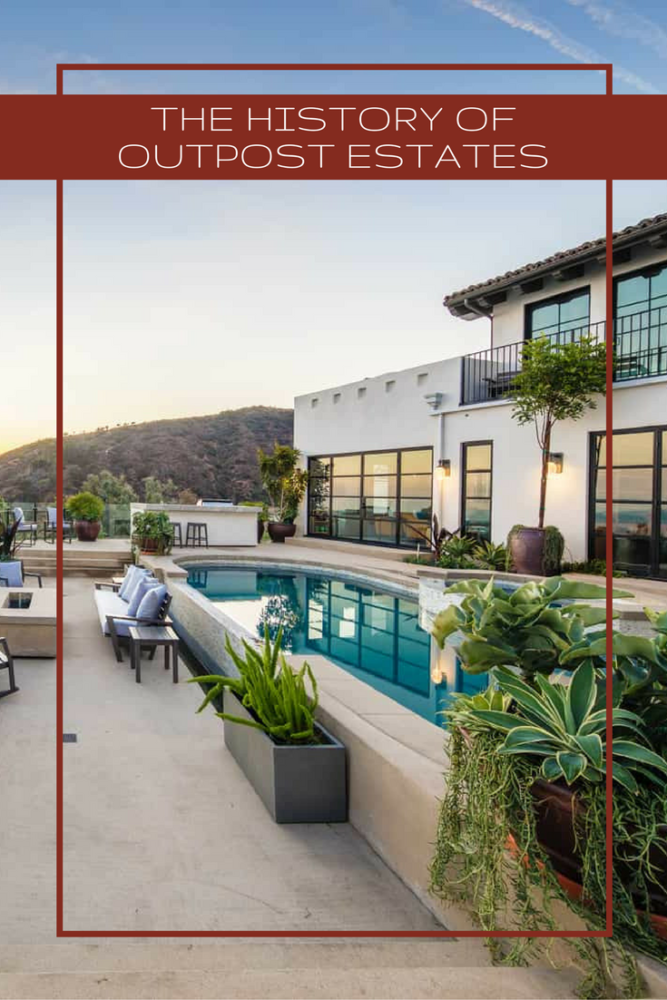 Located in the Hollywood Hills above Los Angeles, Outpost Estates has a history dating back to the 1920s. With its rich history, magnificent views and diverse community, the neighborhood is now made up of nearly 450 homes.
Originally founded by Gen. Harrison Gray Otisthen then sold to Charles E. Toberman, Outpost Estates got its name from a clubhouse on the property known as "The Outpost". The community quickly became known for its Hollywood residents and affluent home designs.
After the Hollywood Sign was first displayed in 1923, Toberman desired to bring more recognition to his own neighborhood. He crafted a neon "Outpost" sign – the largest of its kind during that time – towering nearly 30 feet high. The sign was later dismantled during World War II, with its wreckage buried by dirt and weeds throughout the decades. However, its remains were discovered in 2002 by two Outpost Estates residents during a hike.
Toberman continued to develop luxurious Spanish-style homes, with red tile roofs and plenty of outdoor living space, on lots of more than 10,000 square feet. The neighborhood even survived the stock market crash of 1929, with clients from the oil and entertainment industries hankering for homes. We even dug up this old pamphlet with information on the community and homes. You can also see the location on the map below.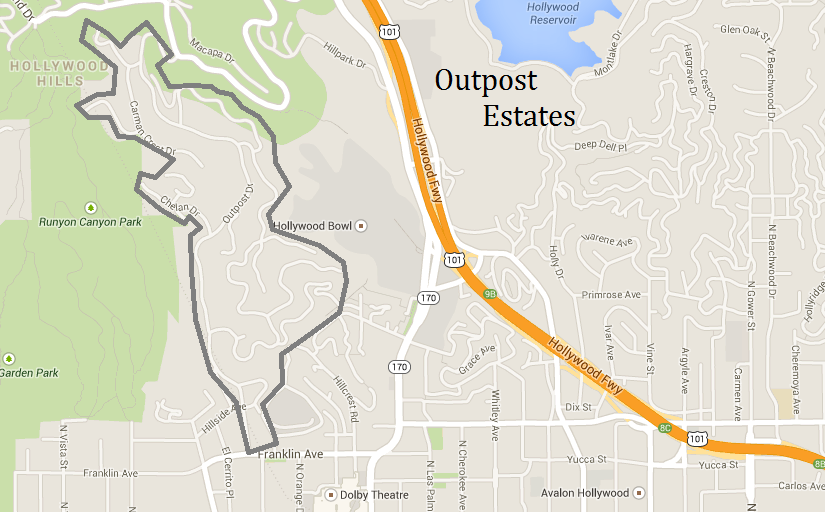 After more than ten years of building, Toberman sought new ideas and built an all-steel home which was immediately bought by "Dracula's" Bela Lugosi in 1935. Many of the community's original homes have been preserved since the 1920s, with Lower Outpost looking very similar to its first years.
Outpost Estates now covers nearly 1.5 square miles with borders including Mulholland Drive and Runyon Canyon Park. Known as a "jewel in the Hollywood Hills", the neighborhood was officially dubbed a City park in 1984 and remains an "urban wilderness" just as Charles E. Toberman would have wanted. Today's homes include sprawling views of Downtown and landmarks like the Hollywood Sign and the Observatory.
Many of the homes also stay true to Toberman's designs of open patios and luxurious design, such as this contemporary home on Maravilla Drive. Looking for even more LA lifestyle? We currently have a number of different properties in the area, including breathtaking views of Downtown Los Angeles such as this Sunset Strip residence.
Or perhaps this spacious estate with Mediterranean influence that was inspired by the architecture of Paul Williams. See more of our Mulholland listing here.
About the Author
Ernie Carswell is one of the most accomplished and respected real estate agents in the industry today. With more than 25 years of experience in the business, Carswell's extensive roster of satisfied clientele includes the likes of Fortune 500 CEOs, professional entertainers, top studio executives, leading attorneys, government officials, ambassadors, and foreign dignitaries.Carswell is one of the most admired names in luxury real estate and frequently receives accolades for his outstanding work in the press. He has been included in The Hollywood Reporter's "Hollywood's Top 25 Real Estate Agents" listing, in Variety's feature on "Showbiz Real Estate Elite," Billboard's coverage of the "Top 15 Real Estate Agents Representing Musicians Today," and was ranked in the top 100 Agents in the nation by the Wall Street Journal's Real Trends.